south asia report world bank
Working for a World Free of Poverty
publication
South Asia's Turn: Policies to Boost Competitiveness and Create the Next Export Powerhouse
---
---
---
Publications Highlights
One million young people enter the workforce each month in South Asia and the region has a growing urban population.
South Asia can seize the opportunity of its dynamic demography to become the world's next manufacturing and export powerhouse.
The region's leading firms demonstrate South Asia's great potential for global competitiveness.
---
Overview
Will South Asia become the next global factory?
South Asia's potential is unquestionable: education levels are on the rise, more than one million young workers enter the labor market each month, and the population of the region's mega agglomerations and sprawling cities is expanding at roughly the same pace. By 2030 more than a quarter of the world's working adults will live in South Asia. As the work force ages and labor costs rise in China and other East Asian countries, many eyes turn to South Asia.
According to the new report, South Asia's Turn: Policies to Boost Competitiveness and Create the Next Export Powerhouse , to realize the region's potential, countries in South Asia should increase regional and global integration, take advantage of agglomeration economies, strengthen firm capabilities, and improve the business environment. The success of the region's leading firms demonstrate South Asia's great competitiveness potential.
---
" South Asia's leading firms have risen to standards of global excellence, demonstrating that world class levels of operational performance, efficiency, and innovation can be achieved with the right management, technology and worker training. These flashes of brilliance across a growing number of areas, locations, and leading firms can provide inspiration for reforms and serve as examples for millions of rising firms in the region "
Anabel Gonzalez
World Bank Group's Senior Director for Trade & Competitiveness
---
Findings
Overall, however, South Asian countries have underperformed in terms of both the quantity and quality of their exports. Fundamentally, this is because most firms in South Asia have low productivity which is the main driver of sustained competitiveness. The report highlights four main policy levers to boost the productivity and thus the competitiveness of firms:
improve the business environment,
connect firms to global value chains,
leverage agglomeration benefits, and
strengthen the capabilities of managers and workers.
To better connect and expose South Asian firms to international good practices, governments should deepen reforms and improve the capabilities of firms to participate in global value chains. This would require gradually reducing tariffs and improving trade logistics to make it easier for exporters to import what they need. Policymakers can encourage the flow of resources to more productive firms by actively managing urbanization and reducing congestion constraints, as well as fostering productive clusters of firms next to pools of qualified workers with easy access to key domestic and export markets.
---
" South Asia has tremendous potential to increase incomes and gain market share in exports through policies that enhance productivity and investment. If the region harnesses its productivity potential, it could be the fastest growing exporting region, for instance, tripling its share in global exports of electronics and motor vehicles by 2030. "
Annette Dixon
World Bank Groups South Asia Vice President
---
Learn More
Read the report

Report full version (PDF) | Report overview (PDF)

Industry Case Studies

Agribusiness in South Asia | Apparel in South Asia | Electronics in South Asia | Automotive in South Asia

Press release
World Bank Live: How Can South Asia's Firms Better Compete?
---
Across the Bank
Competitiveness at the World Bank
---
RELATED
World Bank Private Sector Development on Twitter
World Bank South Asia on Twitter
World Bank South Asia on Facebook
---
---
Bangladesh
South Asia
Trade
India
Pakistan
View More +
---
You have clicked on a link to a page that is not part of the beta version of the new worldbank.org. Before you leave, we'd love to get your feedback on your experience while you were here. Will you take two minutes to complete a brief survey that will help us to improve our website?
Feedback Survey
Thank you for agreeing to provide feedback on the new version of worldbank.org; your response will help us to improve our website.
Thank you for participating in this survey! Your feedback is very helpful to us as we work to improve the site functionality on worldbank.org.
This page in:

_
English
Español
Français
العربية
dropdown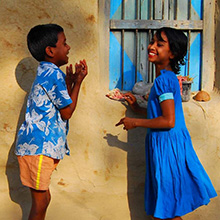 The World Bank In South Asia
South Asia has regained its lead as the fastest growing region in the world, supported by recovery in India. With the right mix of policies and reforms, growth is expected to accelerate to 6.9 percent in 2018 and 7.1 percent next year.
South Asia is expected to remain the fastest growing region in the world. Growth in South Asia is forecast to pick up to 6.9 percent in 2018, mainly reflecting India emerging from its slowdown. Growth should further strengthen to 7.1 percent on average in 2019-20, reflecting a broad-based improvement across most of the region. South Asia should maintain its position as the fastest growing region and even extend its lead over East Asia and the Pacific. While this forecast is broadly unchanged from January 2018, the expected growth rate is slightly lower, mainly due to a downward revision for Pakistan in 2019. The baseline scenario assumes an ongoing, but gradually moderating recovery in global economy and global trade, higher commodity prices, and gradual tightening of global financing conditions. Although risks to the forecast have become more balanced, with potential for further upside surprises to global growth, they are still tilted to the downside.

Despite more favorable international conditions, domestic demand will remain the main driver of economic growth. Private consumption is expected to firm and offset a moderation in public consumption as fiscal policy gradually tightens. Gross fixed capital formation should remain above 7 percent over the forecast horizon. Private investment is expected to accelerate and offset moderating public investment. Import growth will peak in 2018, and moderate to around 6 percent in 2020, helping reduce the pressure on the current account. Export growth, which underperformed last year, is expected to strengthen to 6 percent in 2019, which is nevertheless lower than projected in January.

Growth rates should remain relatively stable across countries in South Asia. Growth in India is projected to accelerate to 7.3 percent this year, and to 7.5 percent in 2019 and 2020, reflecting stronger private spending and export growth. Sri Lanka's GDP growth may average around 4.5 percent over the medium term, reflecting a recovery from the effects on agriculture of last year's adverse weather disruptions, as well as robust consumption and investment growth. In Bhutan and Maldives, growth will continue to benefit from construction and services, and average 7.4 and 5 percent respectively over the forecast horizon. After the strong 2017 rebound from the effects of the devastating earthquakes, Nepal's GDP growth is forecast to moderate to 4.6 percent this year and to average 4.5 percent over the medium term. In Pakistan, GDP growth is expected to moderate to 5.0 percent in 2019 reflecting tighter policies to unwind vulnerabilities accumulated over the past years. In the medium-term, growth in Pakistan is expected to rebound to 5.2 percent on average in 2019 and 2020, reflecting firming exports, and especially robust investment growth in connection to the China-Pakistan Economic Corridor. This is, however, lower than previously anticipated. In Bangladesh, growth is expected to recover from the effects of natural disasters and reach 6.7 percent in 2019, supported by improving exports and remittances. In Afghanistan, growth will remain subdued owing to weak confidence due to security challenges and political uncertainty. These outlooks assume continued reforms leading to improved confidence, macro stability, and increased export competitiveness.

Risks to the regional forecast are more balanced than in the January 2018 assessment, with potential for further upside surprises thanks to global growth. Downside risks are mainly related to the possibility of domestic policy slippages, such as a weakening of fiscal policies or setbacks in areas of reforms to improve the investment climate or to strengthen the banking sector. However, the region is also vulnerable to exogenous domestic events like increased insecurity and natural disasters. Although South Asia is not a larger exporter of goods, it could also be adversely affected by external shocks, such as escalating trade protectionism. And financial markets in the largest countries in the region could be jittery in the event of an abrupt tightening of global financial conditions.

Last Updated: Apr 15, 2018

---

---

World Bank Assistance

The World Bank approved $6.0 billion in lending to the region for 51 projects in fiscal 2017, including $2.2 billion in IBRD loans and $3.8 billion in IDA commitments, of which $0.9 billion came from the IDA Scale-Up Facility. The Bank also delivered 122 advisory services and analytical products, providing technical advice on such issues as competitiveness, energy sector reform, and fragility. The Bank's regional strategy continues to emphasize sustaining inclusive growth at a high rate. It focuses on providing support to private sector development through such actions as climate-resilient investments, greater social and financial inclusion, strengthening governance, and addressing fragility.

Last Updated: Aug 03, 2017

---

GNI per capita, Atlas method (current US$)

South Asia has had the highest growth rate among the regions since mid-2014. Robust growth has translated into declining poverty and impressive improvements in health and education. However, as of 2013, the proportion of people living on less than $1.90 a day was estimated at 14.7 percent, or about 249 million people—a third of the global poor. Moreover, many countries in the region suffer from extreme forms of social exclusion and significant infrastructure gaps. The high growth has also not translated into creating jobs at the pace needed to accommodate around 1.5 million people entering the labor force every month. The rate of women's participation in labor markets is very low at 28 percent, and is even declining in some countries.

Some recent events are also changing the region's development path, including: i) increasing conflict and fragility risks, resulting in displacement surge in Afghanistan and Bangladesh, and impeding regional integration efforts; ii) disorganized and poorly planned urbanization, as reflected in the widespread slums and informal urban settlements, home to at least 130 million people across the region, as well as growing population, congestion, and pollution; and iii) increasing changes in temperature and extreme weather events – with rapid glaciers melt, floods and a growing number of hot spots.

To respond to these existing and emerging needs, the WBG operational framework for South Asia focuses on three themes: (i) Supporting Sustainable Growth, (ii) Investing in People and (iii) Addressing Fragility.

To support Sustainable Growth, we are deepening dialogue on the tough structural reforms to create sustainable macro environment, and an enabling framework for the private sector and job creation. We are prioritizing investments in (i) clean renewable energy (ii) enhancing the livability and growth potential of our iconic cities; as well as decongesting cities and addressing pollution with investments in public transport and (iii) transformational rural growth (promoting climate smart agriculture and agri-business).

To strengthen Human Capital as a driver of growth, we are focusing on improving access and quality of education, addressing stunting and malnutrition, expanding support on skills, strengthening health systems and services, improving governance; and supporting safety nets to protect the poorest families. One key priority we are committing to this year is women workforce participation, given its multiplier effect. We are using our engagement in the region to enhance our focus on skills and financial inclusion, as well as improving access to safe transport for women.

To address Fragility, we are scaling up our engagement on displacement to deal with the recent surge and support basic services and economic opportunity for the refugees, returnees, IDPs and host communities in Afghanistan, Pakistan and Bangladesh. In all South Asian countries, we are working to strengthen public institutions and address governance and corruption risks, including our support to the decentralized governance in Nepal under the newly introduced federalism structure.

The countries in the region cannot grow alone, and South Asia's integration is essential to sustain current growth in the medium to long term. Our role in supporting regional cooperation efforts remains critical and we continue working on energy and electricity trade and transport, and pursuing long-term water security in the region.

---

Gross enrollment ratio, primary, both sexes (%)

World Bank support has helped South Asia achieve the following results, among others:

Afghanistan : Bringing most of the efforts in public health service delivery under one umbrella in Afghanistan, the World Bank's System Enhancement for Health Action in Transition (SEHAT) Project aims to support the implementation of a Basic Package of Health Services (BPHS) and Essential Package of Hospital Services (EPHS) through contracting arrangements across the country. SEHAT also supports efforts to strengthen the capacity of the Ministry of Public Health at central and provincial levels to effectively carry out its stewardship functions.

Bangladesh : Bangladesh has made remarkable gains in ensuring access to education in the past two decades. As of 2015, the country's net enrollment rate at the primary school level is above 90 percent, and secondary school level is around 62 percent. With nearly 6.4 million girls in secondary school in 2015, Bangladesh is among the few countries to achieve gender parity in school enrollment, and has more girls than boys in secondary schools.

India : A $1.5 billion World Bank project approved in 2016 is supporting the rural component of India's Swachh Bharat (Clean India) Mission, the largest-ever drive to improve sanitation in India. The project aims to end open defecation by October 2, 2019, the 150th anniversary of Mahatma Gandhi's birth.

Nepal : Vocational training provided to 4,400 young women leading to employment and economic independence

Pakistan : 2,370 MW power projects supported by IFC and MIGA with 4.4 m tons of CO2 avoided, to be complemented by planned Bank projects

Sri Lanka : Supporting conflict-affected communities: 1 million people living in 1,000 communities received support through 3,200 community infrastructure projects

Last Updated: Jul 16, 2018
---
---
Related
World Bank South Asia on Facebook
World Bank South Asia on Twitter
SAR Annual Report 2016
---
MULTIMEDIA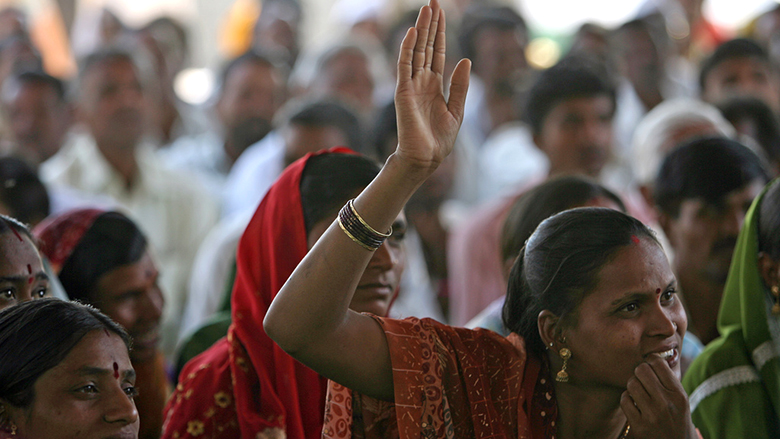 In Rural India, Economic Empowerment Program Mobilizes 45 Million Women
---
More Photos Arrow
---
STAY CONNECTED
Facebook

Twitter

End Poverty In South Asia

Flickr

RSS
One South Asia
Building regional integration for the benefit of the people across South Asia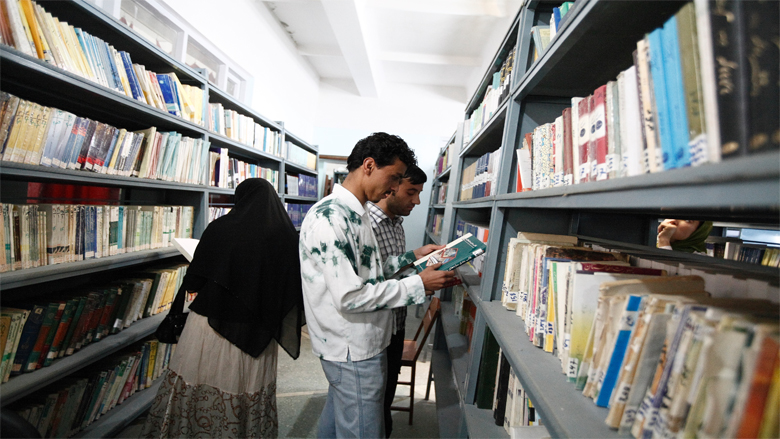 Higher Education Development Project Fosters a Culture of Research in …
The Higher Education Development Project has seen a 30 percent increase in applications for its research grant scheme to further academic research in universities and expects the increase to continue.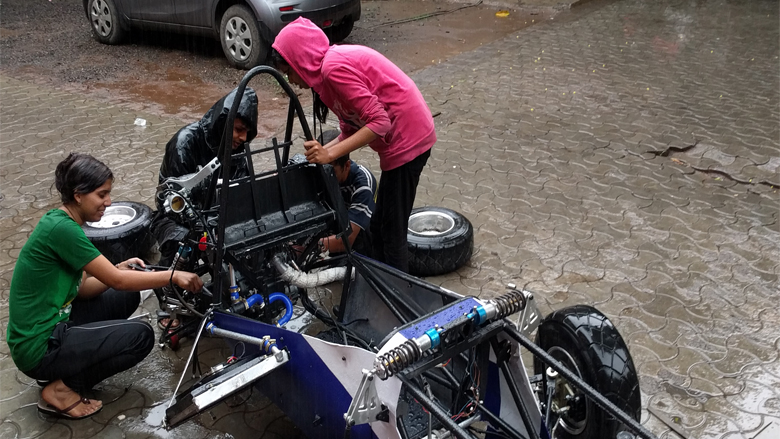 College of Engineering in Pune Raises the Bar for Engineering Education in …
At the College of Engineering in Pune, the quality of teaching improved significantly once the Government of Maharashtra granted it complete autonomy.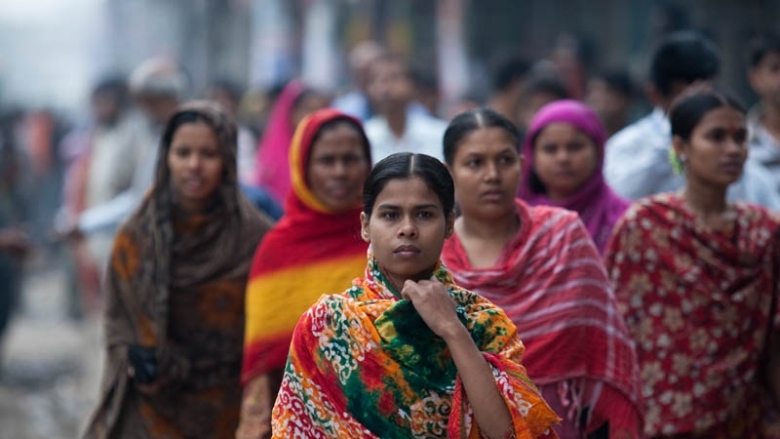 A Modern Dhaka is Key to Bangladesh's Upper-Middle Income Country Vision
With 36 percent of the country's urban population living in Greater Dhaka, the capital of Bangladesh has become one of the world's most densely populated cities.